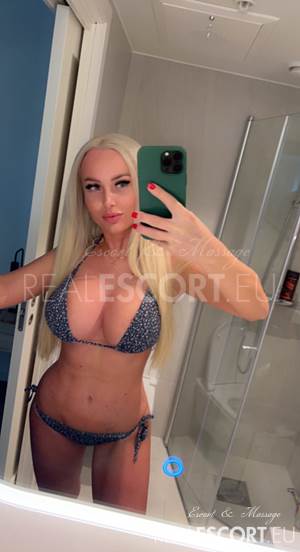 Реклама прошла Фото подтверждение 18 дней тому назад
🎀 Karla B🎀
На данный момент находится в St. Hanshaugen
Цены:
Отзывы: Оценка удовлетворенности
Хорошо: 63 | Плохо: 6
Описание
🇳🇴🇳🇴🇳🇴 Hello dear gentlemen, long time no see, happy to be back to Oslo! ❤️🥳

Thank you for taking time to read my description! ❤️

For those of you who don't know me yet, my name is Karla B, I'm 28 years old and I'm an independent escort girl.

Although I've travelled a lot to different Scandinavian countries, I came to Oslo for first time 5 years ago and I totally fell in love with the city, the culture, but also the people here, so now I see Oslo as my "second home"! ❤️ I'm currently staying in a nice area and a very discreet apartment next to Alexander Kiellands plass, close to the city centre.

I could describe myself using lots of words, but I always said that best way to know someone is by speaking to them directly, so I hope you will try to give it a shot to get to know me a little.

I am a spiritual and a genuine person and always fair about who I am. I treat people with respect and a lot of care and I speak what's on my mind.

During my interactions I like to pamper and please you a lot and this gives me a lot of pleasure too - I also like to receive soft, tender touching and most of all I love a tongue on my pussy which is the best way to get me horny.
Here's my absolutely favourite turn on: a nice long fore play with lots of wet french kisses and then being licked sloooooowly and softly is the best thing a man can do for me! 😍

‼️ I GUARANTEE ‼️ that my pictures and my services are 100% real and that you will definitely meet the girl from the pictures, plus everything I write in my ad regarding the services I provide - that's also true, so everything I mentioned in my description it's possible to do together (check out my included and extras service list down below 🥰😘)!

If you wish to see more of me, you can follow me on other platforms such as OF for more naughty videos and pictures (link on demand or you can find it in my WhatsApp description/picture).

IG: 🎀 Queen Karla B 🎀 Follow me for more 💕❤️‍🔥

💯💯💯 Bildene i annonsen min er ekte og verifisert av RealEscort 💯💯💯
 
My prices:

30 min - 2000 🌹
45 min - 2500 🌹
1h - 3000 🌹
1h Outcall - 4000 🌹 plus taxi both ways

PRICES ABOVE INCLUDE the following SERVICES:

🔥 French Kissing
🔥 Real GFE
🔥 CUDDLE
🔥 Pussy Lick
🔥 Facesitting/Queening
🔥 Missionary
🔥 Doggy
🔥 Cow girl
🔥 Cow girl reversed
🔥 "Spoon" position
🔥 OWO/Blowjob without condom
🔥 Sloppy Blowjob
🔥 Sloppy Ball Lick
🔥 Handjob
🔥 Sloppy Handjob
🔥 Deep Throat
🔥 Ball Lick
🔥 69 position
🔥 Multiple SEX positions
🔥 Relaxing Massage
🔥 Sexual Therapy/Sexual coaching/Healing & balancing sexual energy
🔥 Sexy Lingerie

🆕 - DINNER DATE SERVICE: this involves going out for dinners/dancing/company/date - this service doesn't include any sexual services, it's related only to spending the time together out in a restaurant/bar/lounge/cinema/etc (2h dinner date price is 7000)


FOR EXTRA services:

💖 CIM/COB/COF - 500 🌹 extra for each one of them
💖 SHOWER TOGETHER- 500 🌹 extra
💖 PICS - 500 🌹 extra
💖 VIDEO WITH/VIDEO WITHOUT FACE (during our meeting this option is available as well) - 2000/1000 🌹 extra
💖 RIM on you - 1500 🌹 extra
💖 GOLDEN SHOWER - 500 🌹 extra
💖 ROLE PLAY - 1500 🌹 extra
💖 OUTFITS/COSTUMES - 1000 🌹 extra
💖 OTHER - please let me know about what you'd like more



‼️ I DON'T DO sex without condom, so please don't ask about that! ‼️



✅ 💶💶 PAYMENTS can be done by cash, Revolut or PayPal 💶💶 ✅

Call or text me +47 41269821 (sms + whatsapp)

🇳🇴🇳🇴🇳🇴 VERY IMPORTANT THINGS: 🇳🇴🇳🇴🇳🇴

1. Due to the fact that I'm independent it means I am managing my own calls and sms, so if I don't answer right away that means I'm busy. You're always welcome to send me a message, before I will be able to get back to you as soon as I can.

2. Please book your appointment a day before in order to get your most suitable meeting time. Short notices are hard to deliver. Also my working schedule is between 7:00-21:00 everyday. Thank you for understanding!

3. REVIEWS are important and always welcome! 💖💖💖
I know it's hard to make everyone happy, because we're all different as humans, which is why sometimes there's probably not the same chemistry between people, but I promise I'll try my best to fullfill your fantasies or desires.
However, I'd be super grateful if you could write your personal insights regarding our meeting, it will help me have a better perspective and improve myself and my skills constantly, so that I can give you the best time of your life every time we meet. Thank you! 💖💖💖

4. Yes, my prices have changed: I offer a top quality service and my reviews are a proof of it, so meeting me isn't just about a random sex intercourse. I'm definitely a person who enjoys to have a deeper connection and I offer a much more intense experience, so definitely there won't be no mechanical sex between us. If you have further questions, don't hesitate to ask. 🥰🇳🇴

Working hours from Monday-Sunday: 7:00-21:00. Velkommen!

Med venlig hilsen,

Karla B 💋💋💋
Контакты
Принимаю sms: Да
Принимает сообщения WhatsApp: Да
Ответ на скрытые номера: Нет
Скажите: Я нашел Вашу рекламу на RealEscort
Я говорю:
English: Хорошо
Контактное время
Понедельник
07:00 - 21:00
Воскресенье
07:00 - 21:00
---
Пожалуйста, скажите, что вы нашли мою рекламу на www.realescort.eu
Общее предупреждение!
НИКОГДА НЕ ОТПРАВЛЯЙТЕ ДЕНЬГИ ЗАРАНЕЕ, заказывая эскорт-услугу! Рекламы, которые просят предоплату, скорее всего, могут являться мошенниками. Как показывает практика, они просят подтверждения вашей личности, ссылаясь на то, что вы являетесь новым клиентом, и просят вас отправить определенную сумму денег с помощью Paysafecard, купонов, карты Google Play, PayPal и т. д.
Это общее предупреждение, которое мы даем всем посетителям, а не о конкретной просматриваемой вами рекламе.
Услуги
Красный значок предупреждения означает, что услуга имеет особую инструкцию. Нажмите, чтобы узнать подробнее.